Sampling Information
Current taxonomy and systematics tools permit the classification of practically all fish species. This capacity is of particular value for fisheries management, biological and ecological research as well as to issues related to fisheries products for human consumption. However, its usefulness is hindered by the lack of efficient and fast reference tools.
The FishTrace database covers most fish species of commercial, ecological and zoological interest for the European countries and provides the protocols and tools for their correct identification.
A representative number of samples of the target teleost fish species has been collected following a sound field sampling strategy. Regional data related to common names, field marks, biology, size, fisheries and forms of use, transformation before commercialisation and end consumers, in addition to other aspects related to eco- and zoological interests and conservation status of the species.
Specimens have been identified at species level using standard morphometric and meristic procedures applied by taxonomists. Biological samples from the same specimens have been adequately obtained (muscle tissues and otoliths) and transferred to the FishTrace scientific groups for genetic analysis and biological collections. Specimens sampled for tissue and otoliths and two un-dissected voucher specimens have been also included in the biological collections. Specimens and tissues have been tagged to ensure cross-referencing at individual level throughout the FishTrace network. Specimens used for these purposes have been individually post-validated according to the taxonomy and genetic standardisation protocols.
The taxonomy of each target species is critically evaluated in FishTrace, with particular emphasis to geographical differences. A regional technical list of relevant publications on taxonomy, distribution, ecology and biological parameters have been compiled in the database.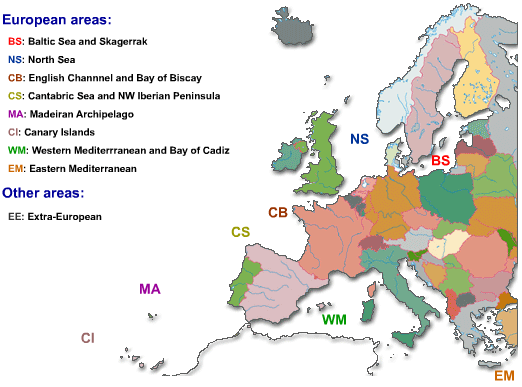 Targeted species
Fish species from 8 European sea areas (see figure above) has been sampled and analysed. Also samples from Extra European species commercialised in Europe are available. Please select one specie from the lists:
 Download all the species/area.